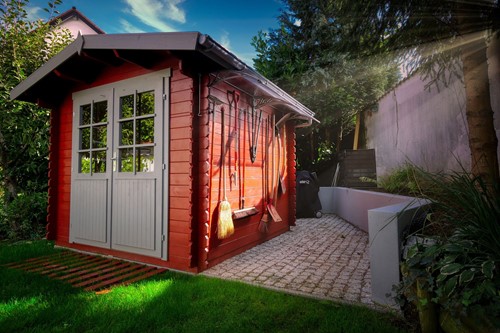 A growing number of homeowners invest in in-law apartments each year as a way to expand their square footage to accommodate family members. According to data from Freddie Mac, upwards of 1.4 million single-family homes include an in-law dwelling.
Regardless of the reason to make the home improvement, property owners often spend the money knowing the additional living space will likely increase property value. To take the savings further, everyday people may want to consider converting a shed into an in-law apartment tiny home.
Costs to Compare & Consider
It's essential to avoid making what some might consider an apples-to-oranges comparison. When calculating costs, it makes sense to compare the renovation costs of a garage or attic with an existing outbuilding. If adding another room to the house is required, that cost would mirror constructing or purchasing a prefabricated tiny home.
A number of remodeling estimate guides can be leveraged online to give you a general idea of how much your project will cost. Fair comparisons call for a dollar amount per square foot of living space. There are essential construction elements that can distinguish the two approaches, including:
Windows: Integrating a new window into a shed or outbuilding tends to be less labor-intensive than the outer frame of a home or garage.

Ventilation: Running HVAC to a garage or attic can be tricky, in terms of cost. Many attics already have ducts in place that can easily be accessed. An attached garage may also have nearby ductwork. It generally won t make sense to invest in a ventilation system for a large shed. Most outbuilding renovations rely on low-cost fans and air-conditioning units.
Electricity: Having power professionally run to an outbuilding can raise the price of the upgrade. However, you have the unique opportunity to go all-in on solar energy in outbuildings. Although the initial investment may be higher, ongoing electricity expenses can be practically eliminated.
Plumbing: An independent in-law space generally requires a full bathroom and kitchen sink. Although the cost of running water and return lines in the living space tends to be comparable, connecting to sewer or septic can prove vastly different. Properties that have onsite septic systems may favor an in-law outbuilding renovation. Tying into an existing line may only require excavating a small trench and laying PVC. A renovated garage or attic often calls for demo work through existing partitions. This process may call for new sheetrock, spackling, and repainting affected rooms. In addition, homes connected to municipal sewers could prove cost-prohibitive to connect a backyard outbuilding.
Adding up all of these costs as well as those unique to your renovation will help articulate upfront investment. In terms of the cost between a tiny house and a home addition, it may prove useful to gather quotes from professionals in your area. While the math will fall one way or the other, true value may reside in the quality of life.